This week went by quickly, but it felt long in terms of how much work I had. It's amazing how I can put so much work into certain things and yet still fail. Maybe not fail, but feel less than accomplished. Such is my life.
----------
My birthday wasn't anything really special. Nothing exciting. Lots of "happy birthday"s, from acquaintances on Facebook more than anyone else. A cake. Some money. Good money actually. A hundred and sixty dollars worth of money. Though it was combined with Chinese New Year red envelope money. Still nice. I guess my mother forgot about our tirade the evening before.
Being eighteen doesn't seem like anything special. Until I tell people that I'm eighteen. That's when I realized how old I am. Do younger kids really look at me the way I used to look at eighteen year olds?
---------

The Australian Open has been going on. I've probably watched and followed this tournament more than any other before and it really is incredibly to watch them. It makes me want to play so badly. It makes me want to be good. It makes me want the to feel success; to be able to scream in joy, pump my fists, and let euphoria run through me. To be able to do this: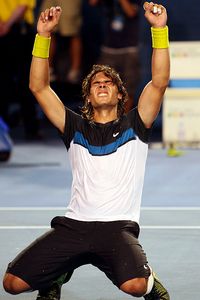 It gives me chills whenever I see a person take in every moment of something after succeeding something they put so much effort into. I can't imagine what it feels like. But I'm really hoping one day, there will be something that I can just lay back and smile about. Something that I work hard to achieve and I would assume that that's the best feeling in the world. I hope.
And there's this guy: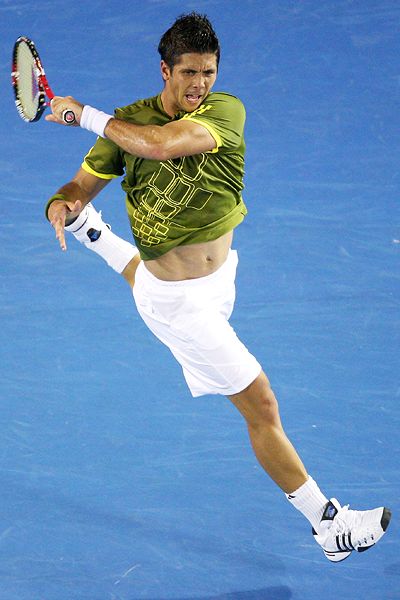 I've come to realize lately how much I love underdogs. To just burst out on the scene and deliver everything you have with confidence, perseverance, and heart. I mean, this guy, Verdasco, he's never been past the fourth round of a grand slam event. He comes to Aussie fitter than ever and prepared to play. He had his heart set on making a good run. And he sure made one hell of a run. I'm sure in his mind, he never had a seconds worth of doubt in his ability, in his potential. He remade himself. He didn't let his past record scare him away from being successful now. I give this guy a lot of credit and my respect. He's an inspiration.
I guess, in a way, that's what I want to do with myself. Forget my failure-and-bad-luck-filled past. Restart. I suppose that this whole new workout routine that I'm committing myself to is part of that. Like Verdasco, maybe I can go into the tennis season fitter than ever. Unlock some of the potential I know I have. Then again, all of this comes with practice, practice, practice. Being in shape is one thing. Knowing how to play is another. And I'm not sure I have the resources to truly unlock this potential. But I'll work at it. Once I find someone who wants to play with me.
Back to the underdog idea. My life has always seemed to me as if it's some sort of a failure. I have never really been able to achieve as much as I strive for. Mainly, it is because I never truly put my mind to something to be the best that I can be. So in this sense, I feel like my life is one big unlocked potential. In every thing I do, I feel like I'm the underdog, which I may be. But my mentality of being the underdog restricts me. I walk in feeling inferior and therefore, I am. Yes, I believe that existence comes before essence, but having the mentality would give me one less force to fight against. And because of this, all of these underdog stories are truly inspiring. It gives me the hope that I can do more if I work for it.
I think it's time for some change. Class pessimist no more? We'll see.